Siruna going to Drupalcon to talk about mobile drupal and (And we are bringing Belgian beers to our sponsor tables)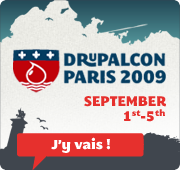 Since Drupalcon DC I have had the change to present some sessions on Mobile Drupal at different drupal camps accross the US including the New York drupalcamp, Denver and this month in LA.
Most of my presentations are gathered in this blog, but can be easily viewed on Slideshare.
Currently I am preparing for a Drupalcon Paris where I will be presenting a session on Mobile Drupal... Luckily I have been practicing a lot the last months, so it will be (hopefully) an enlightening talk ;)
I will talk in general about going mobile, give some examples and of course I will talk about using the Siruna solution to help you in making mobile websites...
In return for your attention, we will bring some of the finest Belgian beers to Drupalcon!!
During Drupalcon I wil be twittering with the Siruna account, since mine is still blocked. I hope to meet some people back there.
Stay tuned, and I hope to see you at Drupalcon!
In meantime I will be making my presentation and continue working on the mobile drupalcon site:
http://drupalcon.siruna.com